Giving up giving up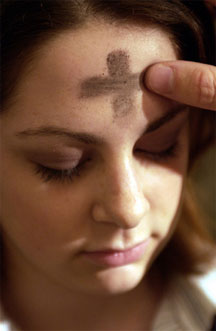 Ash Wednesday today and the start of Lent. I did my best to explain the 40 days ahead to a group of fourteen and fifteen year olds girls this morning in a local school's assembly at 8.30 in the morning when I'm not sure who was the least awake and compos mentis – them or me.
As things currently stand, Ash Wednesday is not a particularly big deal in this part of the world and the low evangelical leanings of this particular parish and this particular deacon means that Lent isn't that much closer to the surface of consciousness either.
I do regret that in many ways and have been taking gentle steps locally to try and bring this 40 day opportunity for a spiritual 'health-check' into the forefront of people's thinking at the present time.
Ridley Hall have published a new Lent book 'Cast of the Kingdom' to which I contributed last year whilst still at college and for which I also happen to have been one of the co-editors. I'll be using it during Lent and have encouraged our church members to do likewise.
I've also pushed the CHP Love Life, Live Lent course and we have a few people taking up the challenge to do that each day. My family and I are going to be following the family book as best we're able together, incorporating it into our evening meal routine.
But I'm struggling to work up any enthusiasm for the idea of giving something up this year. Those that know me well will know that I'm not the best 'faster' even at the most spiritual of times. I don't really eat chocolate, giving up alcohol wouldn't be enjoyable in the moments when I fancy a drink but I'm not that big a drinker so it wouldn't be hard to do and what's the point of such random bits of denial anyway? Surely if we're gonna fast, it should be something big and really difficult like going without food entirely for 40 days and clearly most of us (all of us?) shouldn't be doing that without medical supervision.
If I was doing something costly for myself in terms of what I consume – it would probably be giving up Coca-Cola to which I am probably addicted but I'm not really sure what that would achieve spiritually. If the idea is to save some time and use the time you save to engage in prayer, then doing the spiritual equivalent of swigging a can of coke isn't going to get me very far.
So I'm giving up on giving up. I guess I'm open to suggestions and I am keen to use this time to draw closer to God. Increasingly I am realising that for all my busy-ness and activism in and around the parish, what is really required is providing myself with the space to 'withdraw to a lonely place', to pray and actually have something from God to share with those around me… rather than some cool idea for the youth group or getting up-to-date with various bits of admin. Important though those things might be. I'm just not sure what special activity of denial I can put in place that might help that to happen.